Wedding Florists In Dallas are a crucial part of your ceremony. They will help to create the fairytale setting you're hoping for. This includes aisle decorations that guide you toward your beloved, altar arrangements that frame the sacred space, and pew flowers to add elegance to your seating area.
However, many churches have rules about what types of flower arrangements can be used. Here are some tips to help you work within these restrictions.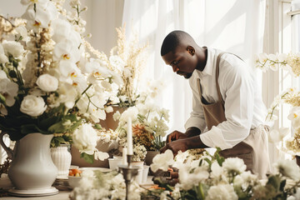 Your wedding florist can make an unforgettable first impression by sprucing up the entrance to your church with lush flowers. Whether your church has old lynch gates, modern double doors, or an elegant entrance, frame the doorway with blooms that match your bouquet for a gorgeous wedding entrance. You could also add a floral garland to the stairs leading into the church to create a stunning welcome for your guests.
If you're going with a bold color scheme, extend your flower theme to your church decorations, including the aisle blooms and altar displays. Bold hues are especially striking when paired with lush greenery. To add more texture and visual interest to your church florals, consider mixing in nontraditional props like a vintage suitcase decked out with flowers for an out-of-the-box decor idea.
For a more minimalist church wedding decor approach, incorporate natural elements like branches and greenery into your arrangements. Use them to line the aisle, create a stunning floral archway over your church entrance, or frame an elegant doorway with ivy and florals for a romantic, rustic feel. If you prefer a feminine touch, you can still make the most of natural greenery by wrapping ivy or moss around pew ends and incorporating delicate flower petals among your aisle and pew flowers.
Another way to add a pop of color to your church wedding decor is by using the blooms you used in your bouquet to decorate your church pews. Bunch a swatch of white tulle in your wedding colors and secure it at the end of each row of pews for an easy and affordable way to tie together your church wedding decorations.
A more luxurious way to decorate your pews is by tying elegant bows of satin and tulle in your wedding colors. Ensure the tails gently graze the floor and secure them with pins adorned in crystals or pearls. You can also opt for lush greenery garlands instead of florals, like cascading eucalyptus or hanging ferns.
A lovely finishing touch to your church decor is a welcoming sign. The hand-crafted sign features beautiful calligraphy and a handsome wooden background. It can be displayed on an easel or hung, making it the perfect focal point for your church wedding décor.
A breathtaking flower aisle is the perfect way to accentuate your walk down the aisle. There are several ways to do this, from using an aisle runner lined with flowers to scattering petals or placing small floral arrangements on the ends of pews. Your florist can help you decide what will work best with the aesthetic of your wedding day and the church you're getting married in.
Aisle flowers are also a great addition to any bridesmaid's bouquets, and you can have your flower girl sprinkle them down the aisle right before you come down. If you need more clarification about how many flowers you want your flower girl to scatter, or if you don't have a flower girl, consider having them carry a small bouquet or pomander instead of a basket filled with petals.
You can use the same floral arrangement on each side of your aisle runner to add depth and continuity to your aisle decor, or you can create a more dramatic effect by arranging them in a swirling design that spans the length of the aisle. You could also line the entire aisle with petals, as this is a classic, romantic touch that works well for many brides.
If you're having your ceremony at a different venue, consider adding floral elements to the table where you and your new spouse will sign the marriage certificate. You can save money on flowers for this space by tying simple arrangements onto chairs or filling jars with flowers.
It's important to consult with your florist before planning any church-specific decor, as some venues have strict rules about what can and cannot be used on their premises. Your church may have policies in place to ensure that all guests are comfortable and that the decor blends with the natural beauty of the church. In addition, they may restrict how you can decorate the aisles or areas where you cannot attach decorations. You should also check to see if your church has other weddings scheduled for the same time, as they may have dealt with wedding florists in the past that didn't meet their expectations or abide by church policies.
Depending on your preference and budget, you may want to decorate the church pews and chairs for your ceremony. You could dress these with a hand-tied posy, a single stem, or something more elaborate. Some couples also use pedestal arrangements, which look beautiful and provide a gorgeous walkway for your guests as they walk down the aisle.
You should always check out the church's rules and regulations in advance to see the restrictions on how flowers can be used and displayed within the building. Ask your florist if they offer any packages that include altar and pew decorations or if they can create these for you separately. They can give you ideas for creating unique wedding decor to suit the style of your big day. They can help with cost reduction by suggesting more budget-friendly flower options like flowers in season or recycled silk bouquets.
Most church facilities have strict guidelines about how decorative materials can be attached to furnishings. Ask your florist if they use specialist attachments on their pew flowers and aisle decorations that don't damage the furniture. These clips slip right over the end of a pew or chair and clip onto the back of an arrangement so that it can be easily moved to the top table or your reception venue.
Pew and aisle decorations can tie the whole church together by adding a lovely pop of color that brightens your ceremony space. For a more rustic, country-style feel, try flowers flowing from apple crates, tree stumps, or wooden benches. Pedestals are a traditional choice, and you can have these on either side of the aisle or both. They work well on both sides of the aisle and can be transferred to bud vases at your wedding reception.
Alternatively, to save money, you can go DIY and make your own pew flowers and aisle decorations. Homegrown flowers can be a great alternative to expensive blooms, and a handful of simple twigs and a touch of ribbon can add a pretty finishing touch. There are plenty of tutorials online for how to make these, and many of these techniques can be applied to other types of wedding decor, too.
Flowers aren't limited to the church's interior; many brides add wedding flowers to their altar and other focal points. Whether you opt for a table cascade of white roses and peonies or a large flower-filled urn or milk churn, these floral arrangements are sure to catch the attention of your guests and make the perfect backdrop for photos. When choosing a style, ask the church coordinator or sacristan if any other weddings will be taking place on your day, or even the day before or after – this can help reduce costs as it may be possible to coordinate colors or basic flower arrangements with the other couples and split the cost.
A beautiful way to save money on your church flowers is to repurpose the magnificent ceremony flowers at your reception table. For instance, the elegant white calla lilies and bright pink ranunculus used on the aisle can be transferred into bud vases for a gorgeous table centerpiece. It's also becoming increasingly popular for members of the bridal party to carry signs or fun directional signage when walking down the aisle; this can be then repurposed as an easel sign for your reception space or as a table plan.
Bowl vases are ideal for rustic and farmhouse-style weddings as they offer a wide rim and body, often featuring stylish handles. They can be used for various flower designs and are particularly suited for hand-tied bouquets. The more organic look of these vases complements the rustic wood accents and natural elegance of most churches. Jug or pitcher vases are another popular choice for weddings as they feature a classic shape and size and can work for any flower design. They are often available in various colors and materials, making them the perfect canvas for wedding themes. Amphora-style vases are also popular for their historic look. They are typically made from glass or ceramic and feature a narrow rim and body. They are ideal for long-stemmed, tall flowers and can be used independently or as part of a larger flower arrangement.